By Marc Van den Broucque and Feroz Khan
Instant messaging (IM) applications such as WhatsApp, Facebook Messenger and Line have had a turbulent relationship with telecom operators and are widely blamed for the decline in operators' revenue over recent years. However, recent trends show an increase in partnerships between the two, which begs the question, why are telecom operators now choosing to embrace their former enemies?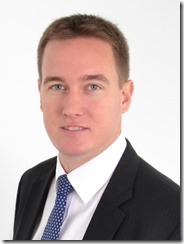 Marc Van den Broucque is a director in Delta Partners' Corporate Finance business in Dubai
The Best of Enemies…
Instant messaging has arguably brought on the most significant evolution of consumer behaviour since mobile telephony began. The popularity of IM platforms is phenomenal – Line was able to register over 600 million users within three years of launch. IM has been the 'killer' user case that has integrated the Internet into peoples' everyday lives. In doing so, it has decimated SMS traffic. Furthermore, as IM players expand their offering, they are increasingly posing a threat to voice traffic, particularly higher revenue international traffic.
Once at the epicentre of subscribers' social lives, telecom operators are increasingly finding themselves circumvented by instant messaging and social media applications. Operators' and regulators' reactions to this have generally been negative. Some have banned certain instant messaging services on their networks while others have called for equal regulation and the ability to charge platforms for access to consumers via the abolishment of net neutrality. On the whole, IM players are a destructive force within the communications value chain, taking more revenues away from mobile network operator's (MNOs) than they are able to capture for themselves.
…to the Best of Friends
In contrast to some operators' responses above, others have adopted a more welcoming approach by seeking to actively partner with IM platforms, such as those depicted below.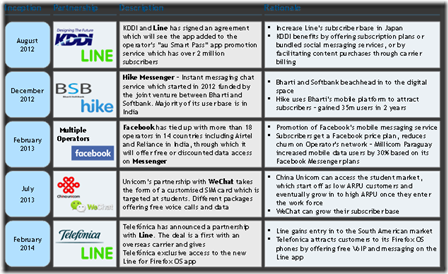 Source: Press clippings, Delta Partners Analysis
Is partnership an appropriate response to the threat IMs pose? We argue that, if correctly executed, a partnership with an IM platform makes sense for operators for a number of reasons:
1. Staying relevant in a constantly evolving connectivity environment
While there is no doubt that data usage is growing, consumers increasingly have access to alternatives to just their mobile data connection. Free Wi-Fi hotspots at shopping centres, cafés and restaurants have reduced the marginal benefit of a mobile Internet subscription and for some consumers this will inevitably decrease usage. By partnering with IM applications and offering bundled packages, operators ensure subscribers keep using their IM services via the MNO. These subscribers are in turn more likely to use data for non-IM activities.
2. Keeping the connection between operator and subscriber alive
Until the advent of social media, operators were unrivalled in the knowledge they had of their customers. In fact, this information is so vast that companies such as Cash Credit have utilised this data to assess telecom customers for financial loan eligibility. With the advent of IM platforms and social media, the MNOs no longer have the best view of their subscribers and hence the opportunity to capture advertising dollars and sell market intelligence has bypassed them in favour of these new entrants.
3. A meaningful opportunity to increase a MNO's revenue
It requires a somewhat rare set of circumstances for a MNO to realise the benefit of traffic derived from IM platforms. Where operators have blocked IM platforms and then enabled access as part of data packages for example, they have been able to realise an increase in their ARPU (Average Revenue Per User). On the whole though, IM platforms present a threat that MNOs are unable to respond to effectively due to net neutrality or other regulations, leaving their hands tied.
In the face of declining revenues due to the emergence of IM services, some MNOs have tried to launch their own platforms in order to recapture the initiative. These players are, however, unable to compete effectively with the fast moving pace of newer entrants. Given this inability to compete, a partnering strategy remains a MNO's best option to respond to this competitive threat.
Within the scope of all potential digital investments, an investment in an IM platform has the further benefit of providing exposure to a broad digital ecosystem. This is increasingly the case as IM service providers have expanded from pure communications into online shopping, taxi ordering and other ancillary services. This is attractive to operators, allowing them to form fewer, but more meaningful partnerships providing a wide exposure to digital trends.
4. Potential for churn reduction
Subscribers tend to show high loyalty to their preferred IM platforms given the network effects implicit in each ecosystem. Furthermore, dwell time on instant messengers is considerably higher than for other online services. According to the TNS Arab Social Media report, 45% of social media users in the Middle East spend around 15-60 minutes per session on social media with more than 50% using social media for instant messaging. By offering bundled or discounted access to these platforms, operators are able to create a differentiated offering for their subscribers, thus reducing churn.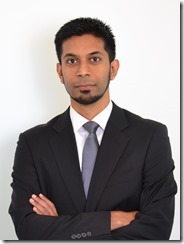 Feroz Khan is a senior analyst at Delta Partners where he works on Corporate Finance and M&A engagements
Mutually Beneficial Relationships
Relationships between operators and IMs can endure as value accrues to both parties. While we have examined the value that accrues to MNOs so far in this article, it is important to realise that the IM platforms also have much to gain. For them, a local mobile operator:
· will provide access to their subscriber base and provide a foothold into a new market
· possesses regional experience/expertise
· will provide access to their established network and infrastructure
· is able to provide assistance with any regulatory hurdles
Untapped Opportunities
With the right execution, MNOs can use the growth of instant messaging for their benefit to supplement and strengthen their core business. MNOs who have executed this effectively are already reaping the benefits.
It is increasingly clear that MNOs should not expect a strong regulatory response to their new IM competitors, and therefore learning to embrace their former enemies is more important than ever. We expect potential IM partnerships to attract further attention from mobile operators in the future, in spite of the threat that IMs continue to pose to the established status quo in the telecommunications industry.
About the authors:
Marc Van den Broucque is a director in Delta Partners' Corporate Finance business in Dubai.
Feroz Khan is a senior analyst at Delta Partners where he works on Corporate Finance and M&A engagements.