Last week Qtel and Huawei concluded a major strategic alliance agreement, which will see the two companies collaborate on a new series of solutions aimed at strategically-important industry sectors in the region.
The agreement was signed at the global headquarters of Huawei in Shenzhen, China and is one of the first agreements of its kind between Huawei and a major regional operator.
Under the terms of the collaborative agreement, the two companies will work together on a shared strategic development plan, which will aim to support the creation of bespoke solutions for businesses across Qatar and the wider region.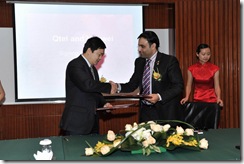 Robert Yang, VP Huawei enterprise business and Khalid Al Mansouri, executive director business solution, exchange signed copies of their agreement
In particular, the companies will look to develop targeted solutions for key industries, with a particular focus on e-business and related solutions. They will also collaborate on bespoke solutions for key enterprise clients, looking to generate long-term value for customers.
In addition to bespoke solutions, the two companies will work together to review emerging technologies and assess the potential for development within key markets.
As well as supporting innovation, the agreement is designed to enable both companies to manage costs and ensure efficiency in the development of new services. By working together, Qtel and Huawei will look to deploy best practices.