SeaChange International is a provider of software applications, services and integrated solutions for the management and monetisation of video-on-demand (VOD), digital advertising, and content acquisition. The company recently attended GITEX in Dubai, believing the GCC region is ripe for the introduction of IPTV and real VOD services.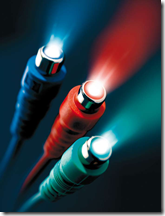 "Somebody else will offer video services over the top of your network, reducing you to being the dump pipe, and they will then command the relationship with the content owners and with the advertisers"

The initial market for SeaChange's technology was in cable linear ad insertions, and that is a market which we command now and is very active because of high definition (HD) content, which is being inserted into cable networks.
Following on from that we focussed on VOD and this was in two areas. One was hardware technology play outs in relation to the VOD servers, and the second piece was in relation to the end-to-end software and integration issues, and standards associated with putting it all together.
So it was very much a US cable play, but a key feature to what we are doing is around standards and establishing an environment for multi-vendor, multi-play technology VOD, which would allow the whole business to expand rapidly. And that is exactly what happened in the US market.
So we have a very strong hardware component to our business but we are really very focussed on the software side in terms of making it all fit together and provide a high quality of experience for the consumer. So we now look at how content fits into that and everything else.
Going forward we are focussing what we do across the entire video spectrum, and this is high-quality, professional video – not YouTube video – and so IPTV is an obvious area that we have been concentrating on. At GITEX we announced a partnership with Argela, which is a subsidiary of Turk Telecom, and is a more traditional data IT company and we bring video
into the mix. Turk Telecom will be the first customer for a next generation IPTV platform, built around Argela's service delivery platform. Over the last two years we have seen a fair amount of IPTV, but it has very much been science projects built either by telcos or by start-up technology firms. An example is in France, where a lot of the technologies are home-grown, likewise in the UK with Home Choice.
On the other hand there are a number of small players in the market who provide standalone IPTV platforms, but for telcos that creates another silo, in terms of another service going onto
the network that has to be managed separately with different skills sets. There is also a strong push now from the telco or the broadband data community for service delivery platforms that allow much greater economy of operation, of support and maintenance, of delivery, of billing, customer management, and so forth. And that is what we are doing with Argela. We are bringing video, IPTV into the whole carrier-grade service delivery platform environment, which we think is quite unique. There are a number of companies that come from the telco/ vendor side of the business that are trying to bring video in; we are coming from the video side of the business, which is why the partnership with Argela is very important.
That is everything associated with back-end, real-time technology on the video serving side, the software for managing play out and quality of the experience, as well as the frontend electronic programme guides and applications, which
makes for a very compelling consumer experience. On top of that we have a wholly-owned subsidiary called On Demand Group, which is a content aggregator and service manager, and On Demand Group manages the entire VOD service for Virgin Media, the cable company in the UK with 3.5 million customers. As a result ODG has three key areas of world-leading expertise. One is in content acquisition and ODG formed a joint venture with Sony Pictures and Disney to provide a VOD movie service in the UK. So we have great calibre inside ODG on the content side.
Then the next piece is really about user experience and sales and marketing. If you have got transactional content, if you have high-value content on an interactive platform how do you sell it? How do you bring the expertise of a Walmart or Waterstones and apply that to digital media on IPTV and VOD platforms? That is where ODG has tremendous experience and is one of the main reasons why SeaChange bought it.
The third part of ODG's key expertise is in operational workflow – how to run and manage a VOD and premium transactional content business. So between us we have quite a far-reaching expertise in terms of delivering this from the core economics through to operations and workflow, through to core technology. And we want to bring that to the GCC market.
I think every single major telco in the world has an active plan to introduce IPTV onto their networks, and what I said at GITEX is that if telcos do not, they will die. Somebody else will offer video services over the top of your network, reducing you to being the dump pipe, and they will then command the relationship with the content owners and with the advertisers. These are the three major, constituent parties and unless you have a very positive, pro-active strategy around introducing high-quality video on your network as a telco, either somebody else will or consumers will churn away.
Simon McGrath is chief marketing officer of SeaChange International