As mobile service providers increasingly focus their investments on 3.5G and 4G infrastructure, ensuring good quality indoor coverage for these high-capacity networks becomes more of a challenge. Comba Telecom, a wireless enhancement solutions specialist, is hard at work helping network operators overcome these challenges, and Denis Ng, the company's Director of Technical Marketing and Solutions talks to Comm. about the considerations that need to be taken into account when designing and deploying the most robust next generation networks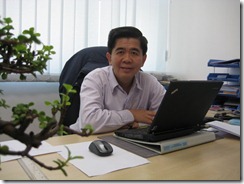 Denis Ng, is Comba Telecom's Director of Technical Marketing and Solutions
"One of the things I say most often to network operators is that the techniques we used to design GSM networks must change when it comes to data networks," Denis Ng, Comba Telecom's Director of Technical Marketing and Solutions explains. "GSM networks are voice-centric, while HSPA+ and LTE networks are built for high-speed data transmission, and as such have to be designed differently from GSM networks."
For years, Comba Telecom has been helping mobile network operators and enterprises enhance access to their networks, and the rise in the investment in data infrastructure over the last half decade has seen the company develop tailored products and solutions to address these needs.
As a solutions partner to mobile network operators in their efforts to manage and reduce capex spending while deploying high-speed wireless data networks, Comba Telecom has been instrumental in the development and offering of solutions, which include repeaters and amplifiers that help cover blind spots, or optimise network efficiency by centralising or redirecting traffic capacity. Comba Telecom's solutions help to enhance radio power budget, reducing capex spending, network rollout time, and time-to-market.
"In LTE we often talk about small cell networks, which deliver higher capacity due to smaller coverage areas that support fewer users," Ng says. "So when operators look to co-locate their LTE base stations with legacy GSM systems, there is a problem because GSM has large cells with a wide coverage area. The way LTE networks are designed has to be considered in a completely different perspective and this is where we try to assist mobile network operators."
An area that is enjoying a great deal of interest and focus with respect to in-building solutions for next generation networks is MIMO (multiple-input, multiple-output) technology, which refers to the use of multiple antennas at both the transmitter and receiver to improve communication performance and data throughput. It is one of several forms of smart antenna technology for which Comba Telecom has successfully devised a series of solutions.
"The clear awareness of the advantages of MIMO when it comes to LTE deployments is something mobile network operators are coming to understand more and more," Ng says. "In the Gulf where operators have been quick to deploy LTE networks, there is a keen interest to understand and benefit from the advantages of incorporating MIMO."
Advantages gained from MIMO technology in the radio interface of mobile data networks include significant increases in data throughput and link range without additional bandwidth or increased transmission power, resulting in improved spectral efficiency (more bits per second per hertz of bandwidth) of the network.
"With our solutions, the upgrade to LTE MIMO can be very fast, so operators can enjoy quick time-to-market with it, and start reaping the benefits almost immediately," Ng says.
Interference of radio signals in the Gulf and Middle East is particularly acute given the dusty, sandy conditions found throughout many of the desert backdrops in the region, and also due to the dense high rise buildings in urban city centres. Thus national regulators and mobile network operators alike are aware of the possible impact of hazy, sandy conditions, and high rise interference on the quality of service of mobile data networks.
As the leading global antenna system solution provider, Comba Telecom supplies single or multi-band, multi-operator base station coverage solutions with high-performance and low visual impact. These solutions help operators with rapid network rollout, while remaining uncompromising on the network performance and quality.
"I always like to look ahead, and one of the products I am very excited about is our range of camouflage antennas," Ng says. "Because of the small cell architecture of mobile broadband networks such as LTE, the antenna needs to be mounted low, and so with regulators, city councils and operators all wanting to improve the aesthetics of their infrastructure and antennas, we have come up with products and solutions that address this requirement."
The company's Integrated Camouflage antenna solution, for example, unifies the antenna radome design to become the camouflage itself. No additional fibre-glass concealment is required, therefore eliminating additional signal strength losses or antenna pattern distortion.
Comba Telecom's innovation and continuous progress has not gone unnoticed, with the company earlier this month having been named as one of the top three suppliers of base station antennas by market share, according to the latest global market research report conducted by EJL Wireless Research.
In the EJL Wireless Research report, "Global BTS Antenna Market Analysis and Forecast, 2011-2016", Comba Telecom and two other antenna suppliers were classified as "Tier 1 Suppliers" that collectively controlled approximately 50 per cent of total base station antenna shipments globally in 2011. The report analyses and measures global shipments and demand for base station antenna equipment covering all frequency bands from 450MHz to 2600MHz and the following standards: GSM/EDGE, WCDMA/HSPA, CDMA2000, TD-SCDMA and FDD/TDD LTE.
Comba Telecom has an extensive antenna product portfolio covering all frequencies and standards.  The company has grown substantially worldwide by offering innovative patented products and technologies that support network migration from 2G/3G to 4G/LTE. In addition, Comba Telecom has one of the best and largest antenna anechoic testing chambers in Asia-Pacific, allowing it to achieve a high level of accuracy and efficiency in antenna design.
"These days, we have many unconventional radio problems arising in mobile network deployments, which will require unconventional solutions to resolve them. We cannot simply do the same thing over and over again and expect different results," Ng concludes. "At Comba Telecom our focus is not just to sell equipment, but rather to partner with mobile network operators and enterprises to come up with lasting, cost effective solutions that help improve their competitive advantages and their customers' experience."
Comba Telecom in brief
Comba Telecom is a supplier of infrastructure and wireless enhancement solutions to mobile operators and enterprises to enhance and extend their wireless communications networks.
Established in 1997 and listed on the Hong Kong Stock Exchange in 2003, Comba Telecom researches and develops wireless technology through its R&D centres in China and the USA.  Its manufacturing base in China features advanced testing equipment and one of the largest microwave anechoic testing chambers in the region to ensure quality in its products.
Its product portfolio includes wireless enhancement, antennas and subsystems, wireless transmission and wireless access equipment. Comba Telecom's end-to-end network solutions include consultation, network design, optimisation and commissioning.
http://www.comba-telecom.com/