DarkMatter, a cyber security firm, has launched its end-to-end portfolio geared to providing complete cyber security solutions to the local, regional, and global markets.
Spanning six specialisations that provide a seamless and integrated cyber security offering, DarkMatter has developed an impressive range of solutions in the following areas: Governance, Risk and Compliance; Cyber Network Defence; Managed Security Services; Secure Communications; Infrastructure and System Integration; and Smart Solutions.
Innovation is a key element in DarkMatter's proposition, with the company having established Research & Development facilities in the UAE and North America, focussed on developing technology products and services, as well as intellectual property to protect against tomorrow's cyber and electronic threats, today.
DarkMatter is headed by Emirati entrepreneur, Faisal Al Bannai and staffed by tier 1 international cyber experts who deploy innovative technologies, adhering to the company's Cyber Security Life-Cycle. This cycle incorporates a four-stage approach involving planning, detection, protection and recovery, and reinforces its secure business solutions.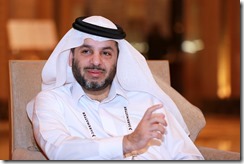 Already a strategic partner of the UAE government, DarkMatter is leveraging this experience in the wider market as it looks to serve regional and international clients. The company provides a complete portfolio of cyber security solutions and services to organisations requiring sophisticated security solutions, from governments and infrastructure operators to large corporations.
Given the rise in cyber security attacks in the UAE and around the world, DarkMatter's offerings have never been more relevant. For example, earlier this year in the UAE several banks were hit by a co-ordinated distributed-denial-of-service (DDoS) cyber attack that crippled e-banking operations and websites, and left the institutions fearing further assaults.