Comm. has been compiling its 'decisive dozen' list of leading service provider executives for a number of years now, and for the first time this year has extended such a ranking to executive management from the technology suppliers' side of the industry. We believe this inaugural ranking of technology supplier executives is timely given the closer relationships being forged between service operators and their suppliers, and the increasingly critical role telecom technology providers are playing in reducing complexity and driving growth in the industry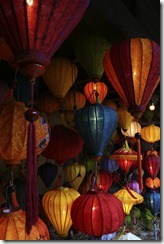 In a similar way that the 'decisive dozen' list of service provider leaders is compiled, this inaugural list of technology supplier frontrunners is based on the strategic direction taken by the companies these individuals head-up, and the impact their companies have had on the telecom sector across the Middle East and Africa in the 12 months to summer 2013.
Like other regions in the world, service providers in the Middle East and Africa are grappling to maintain margins and find new growth areas. Technology providers have thus become key allies in stripping complexity out of network provision, and optimising processes in order to help reduce the total cost of ownership of products and services.
Non-voice communications and digital services remain the focus of many service providers as they look to compensate for the drop off in the revenues generated from traditional voice services, and technology providers are proving instrumental in helping them navigate through the complex new world of digital services, which is becoming increasingly aligned to the Internet world.
Managed services have been growing as a percentage of telecom technology providers' revenues for some time, as they look to rely less on the sale of physical infrastructure, and more on the services being driven through the deployment of broadband networks.
As always, we hope that our choice of executives included in the list will stimulate debate and discussion, and we look forward to receiving feedback on who else we need to keep our eyes on in the coming 12 months.
1. Igor Leprince, head of Middle East and Africa, Nokia Solutions and Networks (NSN)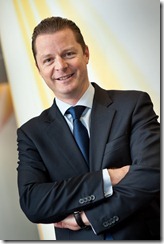 NSN (formerly Nokia Siemens Networks) has been undergoing a radical restructuring programme that has witnessed the company sell numerous non-core assets in recent years, and focus on three strategic areas: Mobile broadband, customer experience management, and services. Leprince has been instrumental in this new vision being successfully adopted in the region.
For Q213, NSN as a whole reported a net profit of €15 million (US$20 million), as compared to a loss of €260 million a year ago, marking the fourth consecutive quarter of profitability for the company.
While the company faces intense competition in the MEA region, it has been able to remain relevant and a supplier of choice to many of the conglomerate service providers that are all thirsty for digital services growth. Earlier this year for example, NSN signed a MoU with Mobily in Saudi Arabia set to help the mobile operator to further modernise and expand its 2G, 3G and 4G networks between 2013 and 2015. As per the MoU, NSN agreed to facilitate a long-term export credit of US$325 million with Finnvera; Finnish Export Credit (FEC); and lenders Credit Agricole and Deutsche Bank.
Last summer, Zain Saudi Arabia also selected NSN as its LTE mobile broadband infrastructure and services vendor for Jeddah, the country's second largest city, while earlier this year Zain Kuwait deployed NSN's Customer Experience Management (CEM) system, ensuring a superior service experience for its mobile broadband customers.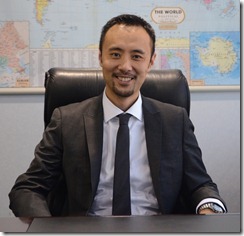 2. Shi Yaohong, president of Middle East, Huawei
Huawei has continued to expand its footprint across the region and become a key partner for many of the leading conglomerate network operators. The company has also enjoyed tremendous success in developing its enterprise networking business and mobile device operations in the region.
Earlier this year, and for the first time in the Middle East, Huawei unveiled its SoftMobile solution, which is set to help build on-demand, orchestrated and ocean-like mobile broadband networks.
SoftMobile helps operators create commercial opportunities by opening up the way for mobile broadband success, with the company believing that SoftMobile represents at least a US$2 trillion market opportunity for operators by 2020.
Huawei continues to benefit from a positive market perception with contracts such as the US$750 million deal awarded to it by Globacom in Nigeria earlier this year, and the SAR400 million (US$ 107 million) contract awarded by Saudi Arabia's Mobily for the expansion of its network.
With respect to devices, Huawei has been hard at work expanding its presence across the MEA. Earlier this year the company unveiled a series of Ascend smartphones across the Middle East as it looks to deliver on its "Make It Possible" consumer platform while advancing its position amongst the top five worldwide smartphone brands.
This launch follows on from Huawei's efforts in Africa where at the start of this year the company announced plans to launch a low-cost Windows Phone 8 device in seven African markets in Q113 as part of a partnership with Microsoft to drive up smartphone penetration on the continent.
3. Anders Lindblad, president Region Middle East, Ericsson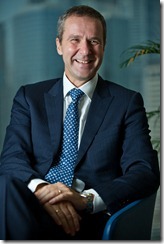 As the leading global telecom technology supplier, Ericsson faces the on-going challenge over its dominance of the industry, and continuously finds ways in which to draw nearer to its customers. While other competitors narrow their product focus, Ericsson is expanding into new areas with the view to becoming the leading end-to-end telecom solutions provider.
Ericsson is placing increased emphasis on the enterprise market as it sees significant scope for growth in this area. The company announced that in an effort to meet the growing demand for machine-to-machine technology, in cooperation with SAP, the two companies would jointly market and sell cloud-based, machine-to-machine (M2M) solutions and services to enterprises via operators around the globe.  The solutions will be based on a combined software-as-a-service (SaaS) offering from Ericsson and SAP within M2M.
Regionally, Ericsson broadband products and services remain in high demand. From being selected as Batelco's sole vendor in the network operator's deployment of its 4G/LTE network in Bahrain to entering a five-year multi-country managed services agreement with Etisalat subsidiary Atlantique Telecom to manage its mobile networks, Ericsson is continuing to deliver on its vision to help bring about the Networked Society.
4. Jay Srage, president MEA&CA, Qualcomm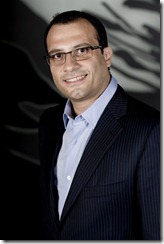 While it is a fact that mobile data continues to grow unabated, Qualcomm believes what the industry now needs is a focus on practical solutions to manage and grow from this trend. Under Jay Srage's leadership, the influence of the chipset and telecom software company has been growing exponentially in the region as smart- and feature-phone penetration rises ever higher.
In the quarter to end-June, Qualcomm as a whole reported that revenues rose by more than a third to US$6.24 billion, boosted by increased smartphone chip shipments.
Net profit was also up, by 31 per cent to US$1.58 billion, and with a significant amounted being ploughed back into R&D activities every year, Qualcomm is having a real impact in the direction charted by the telecom sector.
The company also continues to espouse the virtues of the maximisation of smartphone processing power through its Qualcomm Powered initiative, launched in summer 2011, which aims at bringing OEMs (original equipment manufacturers), retailers, and network operators closer together to drive mobile digital services usage.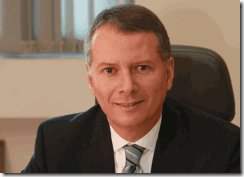 5. Amr El Leithy, president MEA, Alcatel-Lucent
Alcatel-Lucent has faced a number of questions regarding its future as a standalone telecom technology provider, and despite the doubts has remained a stalwart supplier in the MEA region. With a new corporate strategy under implementation and an appetite for cutting-edge technology, the company continues to make inroads into the region's sector.
Earlier this summer, Alcatel-Lucent announced 'The Shift Plan', a detailed three-year plan to reposition the company as a specialist provider of IP networking and ultra-broadband access; the high-value equipment and services that lie at the heart of the high-performance networks of tomorrow.
'The Shift Plan' is aimed at mobilising the full range of Alcatel-Lucent's assets and resources to achieve a decisive swing in the group's industrial focus that will concentrate the company on the priorities of its telecom customers as they deploy next-generation networks to address the explosive growth in bandwidth-hungry data traffic.
Regionally, Alcatel-Lucent has wins such as its cooperation with Regional Telecom, a communications service provider in Northern Iraq, which successfully launched Iraq's first 4G LTE network, as a strong reference.
6. Mayank Sharma, vice president Africa region , Mahindra Comviva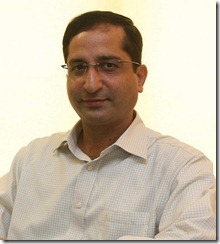 In recent years Mahindra Comviva has been making significant inroads into the mobile VAS space across the Middle East and Africa. The company has over 10 years of experience in managing mobile data pipes for more than 80 operators globally across 40+ countries, and believes that it is ideally placed to be the solution provider to evolve an operator's mobile data strategy.
With the rapid expansion of value added services and mobile commerce in Africa, Mahindra Comviva has been at the heart of network operators' implementation strategies. The company has been involved, for example, in becoming one of the largest music aggregators on the African continent, having collaborated with over 70 partners including local and international content providers/copyrighters/ local artists and production houses in the region.
Early this year Mahindra Comviva announced its collaboration with Etisalat Group to provide the network operator's 139 million subscribers across the Middle East, Africa and Asia with consumer email, instant messaging, social networking, phone book backup services as well as popular news/web feeds and other relevant applications over their mobile phone. Subscribers were empowered to achieve this either through downloading an application or via USSD, SMS or MMS messages, which eliminated users' dependence on smartphones.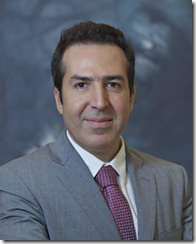 7. Issam Darwish, executive vice chairman/CEO, IHS
The proliferation of independent tower operators in Africa is a clear indication that service providers on the continent acknowledge the benefits they bring and are willing to enter long-term arrangements with a growing number of them. A group of leading providers, including IHS, are assisting network operators to generate cash from the tower portfolios and allowing them to focus on the provision of services to their customers rather than the management of expansive infrastructure networks.
This summer IHS announced the raising of US$522 million in fresh debt and equity, led by new and existing lenders and shareholders.
The combined transaction, which represented one of the largest capital expansion initiatives in Africa during the last 12 months, brought the total financing raised by IHS to over US$1 billion.
The company is set to utilise the proceeds to finance the construction of more than 1,000 build-to-suit towers in Nigeria, Côte d'Ivoire and Cameroon, to invest in solar and energy efficiency solutions, and to fund further expansion into new markets.
Last year, the company invested US$8 million to upgrade its network operations centre (NOC) in Lagos, Nigeria. The upgrade allowed IHS to offer state-of-the-art infrastructure management and professional services and site monitoring systems to mobile network operators in Nigeria, Cameroon, Niger and other neighbouring countries in West Africa.
8. Nasser Ayad, senior vice president, ZTE

Despite operating predominately in the shadow of its larger compatriot, ZTE has maintained a presence in the Middle East and Africa, entering a number of strategic arrangements and benefitting from the support of the China Development Bank (CDB).
Late last year ZTE struck a US$20 billion financing agreement with CDB, in a deal that will allow "in-depth cooperation in all areas between industry and finance by closely integrating the strengths of CDB in investment and financing and those of ZTE in industrial technologies."
The so-called 'Development Financing Cooperation Agreement' builds on an initial deal between the two firms struck in March 2009 and will last for five years. It empowers ZTE to conclude arrangements such as the US$500 million network upgrade and expansion contract with Globacom in Nigeria earlier this year.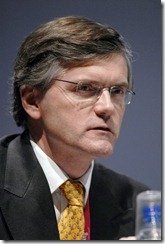 9. Alan Harper, CEO of Eaton Towers
Eaton Towers was established by an impressive array of telecom professionals and has been one of the companies pioneering and leading the outsourced tower model in Africa.
At the start of this year Eaton Towers was boosted by the securing of a US$30 million loan to fund its expansion into Ghana. The transaction provides for a five-year senior secured term loan facility to fund the enhancement and upgrade of towers under a site sharing and maintenance agreement contract with Vodafone Ghana.
This transaction followed the US$150 million of private equity funding Eaton Towers secured in September 2012, placing it on a strong footing to continue with its pan-African expansion plans.
In June 2013, Eaton Towers announced that Telkom Kenya had signed an agreement with Eaton Towers for the management of its passive network infrastructure. The fifteen-year tower management and leasing deal is focused on both the maintenance of existing sites by Eaton Towers and the building of new sites. Telkom Kenya will retain ownership of its existing portfolio of over 1,000 towers while Eaton Towers will invest in passive infrastructure upgrades and build new towers to provide Telkom Kenya with improved coverage and network quality.
10. Charlene Chong, general manager, Comba Telecom

As mobile service providers increasingly focus their investments on 3.5G and 4G infrastructure, ensuring good quality indoor coverage for these high-capacity networks has become more of a challenge. Comba Telecom has thus been hard at work helping network operators overcome these challenges, and has been achieving a large measure of success in the process.
Comba Telecom has been helping mobile network operators and enterprises enhance access to their networks, and the rise in the investment in data infrastructure in recent years has seen the company develop tailored products and solutions to address these needs.
As a solutions partner to mobile network operators in the Middle East, Comba Telecom has been instrumental in the development and offering of solutions, which include repeaters and amplifiers that help cover blind spots, or optimise network efficiency by centralising or redirecting traffic capacity. The company's solutions have helped a growing number of service providers in the region to enhance radio power budget, reduce capex spending, network rollout time, and time-to-market.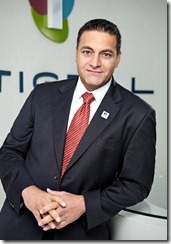 11. Ismaeel Makdisi , acting CEO, Intigral
In 2009 Intigral was established, in part by Saudi Telecom, to help assist the content aggregation needs of service providers in the Middle East and wider emerging markets. Since its inception, the company has been looking to establish economies of scale in the mobile digital services space, and has been assisting a growing number of network providers to monetise their digital content.
Intigral aims to offer a one-stop shop for the region's telecom operators, providing services including content creation, repurposing, censoring and publishing for local audiences. The company also dabbles in the management of video-on-demand (VOD) services provided by telcos; and the development and management of web portals. It also offers digital storefront and applications development and management expertise and has since grown to employ a workforce of 240 professionals based in Dubai and Riyadh.
Late 2011 STC invested a further SAR90 million (US$24 million) in Intigral, boosting its stake to 71 per cent. Just recently Intigral launched AFKAR.me, the region's first full-spectrum digital sector start-up and entrepreneur incubator. AFKAR.me sits at the core of Intigral's commitment to grow the region's digital ecosystem, and will source, incubate and develop innovative business ideas from start-ups and entrepreneurs.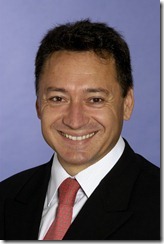 12. Christian Morales, Corporate VP and GM EMEA, Intel Corporation
Intel's reputed computer processing power is being put to good use in the smartphone arena across the Middle East and Africa, as the company looks to drive its Intel Inside devices. With operators such as Etisalat having already adopted and pushing smartphones featuring Intel's chipsets, the company's influence in the arena is only set to grow further.
Earlier this year, Intel and Etisalat Misr announced the launch of the Middle East's first smartphone with Intel Inside, the Etisalat E-20 smartphone. The Etisalat E-20 smartphone is targeted at the growing number of smartphone buyers in the region as in Egypt alone there were more than 91 million mobile subscribers at the start of this year.
This follows on from the alliance Intel entered into with Motorola last September to see Intel Inside incorporated into Motorola RAZR devices.