A Dubai start-up, Makook Smart Living is set to introduce a service that delivers on the 'Internet of Things' vision, bringing together entertainment, automation, security, data storage, and cloud services on one easy-to-interface platform. The company's CEO, Nasri Tehini, tells Comm. why this is a great time to launch such an innovation in the MENA region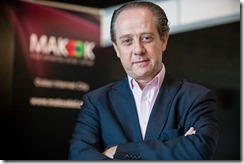 Nasri Tehini is CEO of Makook Smart Living, which was founded in February 2014, and is based in Dubai Internet City
Nasri Tehini is keen to emphasise that while some of what Makook Smart Living provides is already available as standalone services, it is the first time that a suite of services encompassing home automation through to cloud, entertainment, and data storage have been available in a single integrated offering.
Makook, as the service is known, is provided as an overlay via an easy to deploy appliance based on a unique technology platform developed by US innovator Prodea Systems. Prodea has been working on the Residential Operating System since 2006, and more than 1.5 million coding hours and over US$100 million has been invested in its development to this point.
Makook Smart Living will offer its service to 19 countries across the Middle East and North Africa via partnerships with organisations in-country, and agreements with vertical channel players such as telecom service providers, property developers, and retail chains. To that end Makook will support its future channel partners via a turn-key service and maintenance programme. The platform is also providing advanced remote management and data analysis capabilities via its sophisticated multi-tier cloud-based infrastructure.
"Some years ago when the movie Minority Report came out, the ability to move information across devices and screens, and automate activities between terminals was pretty much science fiction," says Nasri Tehini. "These kinds of applications are now a reality, and can be implemented at affordable price points. This reflects the evolution of the Internet itself as more social tools come on-stream and people look to organise and interact with their information and communications with others in a seamless, simple manner."
Tehini explains that the Makook offering is built around four main pillars, which are: me; my home; my health; and my education, with Makook Smart Living initially focusing on the first two areas at its time of commercial launch, which is scheduled for the fourth quarter of 2014 in the UAE.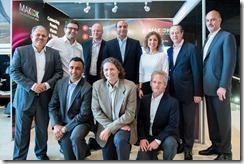 The Makook Smart Living team recently demonstrated the power of the Makook platform at an event in Dubai, and welcomed the CEO of their technology partner, Anousheh Ansari of Prodea Systems
Makook Smart Living will initially be driving Makook's commercialisation effort itself, partly as a proof of concept exercise. Through online marketing and retail kiosks the company will be looking to offer bundled services that incorporate the element of the service offering that is most appealing to the specific individual.
"Dubai and the UAE is a fantastic location for us to showcase the power of the Makook platform," Tehini says. "The leadership of the country have a strong vision on the development of a Smart City environment for the country, which feeds directly into our own view of enhancing, and realising the benefits of the 'Internet of Things'."
Dubai has set a target of becoming the 'smartest city in the world' by 2017, which will further fuel people's ability to manage their personal environments and interactions with others as well as with other machines and devices in an online environment.
"We really do believe this is an opportune time to be rolling out our service in the region, and our value proposition lies in the combination of not only automation devices, but entertainment, information, monitoring, commerce, eHealth, eEducation, security of people's information, companion devices, and access," Tehini concludes. "Even if someone wanted to pay for all this, or try to find it all for free, it could not be found in one place – with an unlimited future of continual growth and upgrades. Makook represents an ongoing delivery of a bundle of services that are valuable and not limited to a fixed range of devices."