By Christophe Firth, Media & Telecoms Consultant at A.T. Kearney Middle East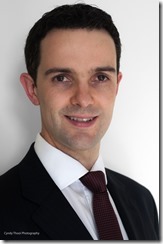 Globally, over-the-top video (OTTv) is becoming mainstream[1]. In the Middle East, however, OTTv is still nascent by global standards. Fewer than 100,000 homes subscribe to dedicated commercial OTTv services—less than one per cent of television-viewing households[2]. Yet interest is strong and the market is evolving. Istikana and icflix launched the region's first major standalone OTTv services in 2011 and 2013 respectively. OSN recently followed by announcing the launch of Go by OSN for non-pay TV subscribers. In 2014, beIN SPORTS relaunched its OTT service and began selling multiscreen subscriptions, and MBC partnered with Samsung to launch Shahid on smart TVs.
The market in the Middle has the potential to be worth US$1 billion by 2020. What does it take to grow to this level? Content, fast networks, smart devices, anti-piracy measures, flexible pricing, online advertising, and regulation are all key factors that can make or break the market. The top three growth enablers based on our market analysis are:
1. Great content
The old adage "content is king" remains truer than ever for OTTv services. Considering the Middle East's multicultural nature, the content line-up needs to be varied and targeted at priority segments. For the more conservative part of the population, particular attention needs to be paid to offering a "safe" viewing environment.
Crucially, with close to a thousand satellite channels available for free OTTv platforms need to secure access to marquee premium rights.
2. (Super-) fast networks
In the Middle East, the availability and affordability of super-fast networks varies significantly among countries. In GCC countries, fibre optic and xDSL connections are nearly universally available. In the rest of the Middle East, however, fixed broadband penetration rates are not expected to exceed 10 – 15 per cent of households by 2019.
Increased deployment of high-speed mobile networks provides a viable alternative. The challenge, however, will be to find an economic model that compensates the costs of carrying massive amounts of data traffic on wireless networks.
3. Device availability and user interface
The Middle East is quickly becoming one of the leading regions in the world in terms of smart device adoption. For tablets, which are expected to be used the most for OTTv services, the number of users is expected to grow by 77 per cent annually until 2017. Smartphone penetration in the GCC countries is already among the highest in the world.
To become mainstream, OTTv services will need to be available with an acceptable quality, user interface, and price on small and large screens alike.
Who is best positioned to use these factors to win the market?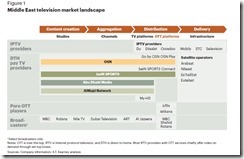 Direct-to-home satellite pay TV operators
Pay TV operators leave the gate with a strong position, thanks to their existing subscriber relationships and customer knowledge, multiplatform distribution capabilities, and access to premium content.
Pay TV operators need to focus on developing a portfolio of products that combines multiscreen subscription packages targeted at heavy-usage customers and OTTv-only packages for light-usage and lower-end customers.
Broadcasters
Broadcasters such as MBC and Rotana can take advantage of their strong audiences and content rights ownership, and OTTv offers them the opportunity to increase viewership of their content and direct consumer access.
Broadcasters face two options: either partnering with a pay TV provider, telecom operator or OTT player to get their video service hosted on their platforms, or joining forces with other broadcasters to co-own a service distributed through their own and third-party platforms.
Telecom operators
Telecom operators are eager to find new revenue streams, and cross-selling television and video services to their extensive customer base is a sterling opportunity. Telecom operators control the transmission networks, which gives them an edge in managing service quality and economics. One challenge they face is their lack of regional scale to justify investments in IPTV platforms and content.
As a result, telecom operators need to evaluate two very different alternatives: launching their own pan-regional OTTv platform or scaling down their IPTV investments by setting up partnerships.
Standalone OTTv service providers
The emergence of OTTv provides a window of opportunity for new players to enter the Middle East television market. These include both regional players and global contenders.
Standalone providers can move quickly, without the constraints and cannibalisation risks associated with a legacy television business. However, new entrants will need to invest heavily to compete with the established pay TV operators and broadcasters.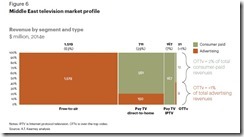 Prepare Today to Grow Tomorrow
OTTv has clear growth potential in the Middle East, but a number of conditions are required for it to fully develop. Consumers have an appetite for these services, so supply will be the main driving factor. Understanding and managing the consumption, content, and competitive dynamics of the market is the key challenge facing all players looking to win in the OTTv market.
---
[1] In this paper, OTTv is defined as live streaming or on-demand video content offered on the open Internet, whether free or in exchange for payment. Internet protocol television (IPTV) is not included, as it is provided over a dedicated, managed network.
[2] The Middle East is defined in this paper as the member states of the Gulf Cooperation Council (Bahrain, Kuwait, Oman, Qatar, Saudi Arabia, and the United Arab Emirates), Iraq, Jordan, Lebanon, and Syria.