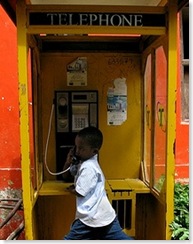 French company Providence Technologique has launched a mobile virtual network operator (MVNO) in Cameroon under the brand name Yemba.
It has set the ambitious target of adding two million subscribers by 2010.
Yemba will be targeting the "call box" segment by offering discounted call rates.
General manger of Providence Technologique, Michel Nguetsop, said the company had secured an MVNO agreement with CDMA operator Camtel, but would run its own billing system, produce its own SIM cards and manage its customers' in-coming and out-going calls.
Camtel was expected to activate an EV-DO upgrade on its fixed wireless infrastructure last September, although it is not initially clear if this has occurred.
Yemba officials stated the MVNO plans to garner subscribers by targeting the "call box" segment of the communications market, which generates a monthly income of XAF8 billion (US$19.4 million), by offering call rates of XAF80 per minute and lower.
There are currently two mobile network operators in Cameroon – MTN and Orange, which ended the first quarter of this year with a combined 4.9 million subscribers, according to the Mobile World database. This represented a mobile penetration rate of 27 per cent.
Providence Technologique's main business revolves around touch screen technology that uses the Icos software platform, used in shopping centres, museums and other public sites.