Communications service providers' ability to reduce churn and successfully introduce new revenue-generating services can be achieved through their ability to understand and cater to the customer experience. While many service providers know this intuitively, Nokia Siemens Networks (NSN) has devised a framework that they can use to look at their networks, processes, and services, and implement practical measures to achieve the necessary results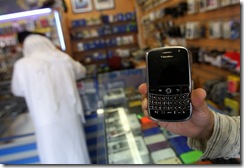 End user expectations in mature markets have changed, and one reason is the growing usage of mobile broadband, which has increased focus on factors such as good network quality (Getty Images)
As the provision of communications services becomes more complex with the expansion of mobile broadband networks and the plethora of applications available on connected devices, NSN believes the most valuable asset a modern communications service provider has today is customer data, and the insight they are able to generate about their end customers.
NSN has identified five user trends that it believes are shaping subscriber behaviour and in turn the direction that the telecom sector is moving in. In recent years a multitude of changes have occurred in the way the communications sector functions, with the main trends being identified as follows:
Broadband Internet is everywhere. In Africa it may be a little delayed but the trend is as important on that continent as it is in the Middle East and other regions
The personalised experience. Customers want to be treated like individuals using different services from an operator
Convergence is a topic that has been lingering for the last 15 years. But it is a fact now – access, devices, services, are all subject to convergence pressures. The need for simplicity is heavily affecting the way operators build their networks
Network and service quality is a must. Retention levers are very important. In a market that is predominantly prepaid, churn is just a click away
Flexible cost control and effective care. No one wants to be surprised at the end of the month with respect to the final bill
According to Michael Seeger, head of Customer Insight and Experience for the MEA at NSN, new competitors entering the traditional telecom space are placing significant pressure on telcos, making it imperative that service providers understand their end-users and satisfy their service requirements efficiently and effectively.
The benefits that accrue to service providers by fostering a closer relationship with customers include:
Enhancement of customer experience
Need to drive new revenue streams
Survival need to improve operational efficiency
At the heart of any effort by a service provider to understand and relate to its customers more effectively is subscriber data management where by an operator knows the identity, location, device and services that are utilised by a specific subscriber.
"Only through experience will operators be able to reduce churn," says Seeger. "Improving the customer experience is also the underlying factor to many of the other success drivers. If an operator wants new revenue sources it either has to invent them or grab them from completely other sources. End-customers will only pay those who provide the ultimate experience."
Service providers around the world appear to be starting to understand the value of the data and information they hold on subscribers, though much of that information remains scattered across scores of data centres and is often approached in a silo fashion.
A Business Needs Study conducted by NSN at the end of 2009, showed that the top priority for service providers in 2012 will be customer experience with 27 per cent of the sample voting for it. 19 per cent chose reduced opex; 18 per cent cited new revenue sources, and 14 per cent cited growing business beyond telecom.
NSNs' Customer Acquisition and Retention Study, conducted early this year indicates that globally the quality of customer experience is increasingly becoming a decisive factor in both acquiring and retaining customers, for service providers across mature, in-transition and emerging markets.
"It is surprising that the business priorities of operators have changed so much compared to previous years," says Seeger. "Operators understand that they have a key place in the evolving telecom value chain. Internet companies do not have the customer intimacy and knowledge of the customer that the operator does."
In order to improve customer experience, NSN advises three things for service providers to do:
Address mobile broadband area
Develop attractive multi-play offerings
Innovative and quickly. The telecom industry is no longer moving in telco speed, it is now moving in Internet speed.
In order to help operators begin to successfully leverage a closer relationship with their customers and in so doing protect and improve their competitive positions, NSN launched its Insight & Experience Framework at the Mobile World Congress in Barcelona in February 2010. The framework is specifically aimed at giving service providers a powerful way to truly treat their customers as individuals. The framework lets service providers derive real-time, actionable insights from the wealth of customer data available across their networks.
The framework combines NSNs' consulting and systems integration expertise with a set of software products that provide a wide array of data and insights about subscribers' preferences and behaviour. Service providers can use the insights gained in this way to enhance their customers' service experience and their own business performance.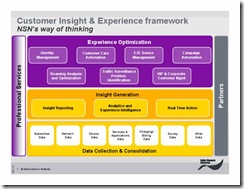 The framework includes two new innovations. First, it lets service providers sift through the large amount of customer data in their networks to find the pieces of information that are most useful for enhancing a subscriber's service experience. Service providers can use these real-time, actionable customer insights to intelligently manage the growing traffic in their mobile broadband networks by offering customised tariff plans and quality packages as part of targeted marketing campaigns.
The second innovation is the way the framework, unlike any other software before, enables a subscriber's experience to be visualised and modelled in a graphical presentation, based on "customer experience indexes". These indexes are values that sum up how subscribers are experiencing their service and relationship with the service provider. The indexes are based on a sophisticated and customisable combination of factors such as customer perception data, customer subscriptions, monthly invoices, service usage patterns, and recent problems with the service. A service provider's marketing department can use the indexes to create personalised service packages for individual customers.
The Insight & Experience Framework is built on top of NSNs' subscriber data management (SDM) solution. Together with other software that are part of the framework, such as Serve atOnce Traffica, the company's SDM solution serves over one billion customers of more than 200 service providers. The framework combines the company's consulting and systems integration expertise with software that can process data related to, for example, subscriptions, charging and billing, services and applications, devices, and subscribers' perception and satisfaction. The result is a customised framework that complements customer relationship management (CRM) in a unique way.
Thus the challenges that can be turned into opportunities by virtue of the framework include:
Use core information to enhance/simplify subscriber experience
Enhance partners' offer with relevant real-time information
Reduce time to market and enhance service take-up
Manage/protect/monetise subscriber identity in the Internet
"There is a huge pressure to reduce cost and complexity and that is one of the key drivers from the technical organisation," says Seeger. "So being able to reduce the amount of data storage, and having one common provisioning point is a good start."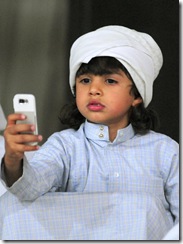 NSN advises that knowing the profile a customer allows the service provider to develop a much stronger relationship with the end-user, reducing churn and possibly raising additional income for new revenue streams (Getty Images)
Customer insight – the new success mantra for service providers
NSN's Customer Acquisition and Retention Study, conducted early this year indicates that globally the quality of customer experience is increasingly becoming a decisive factor in both acquiring and retaining customers for service providers across mature, in-transition and emerging markets.
Citing poor experience issues, customer loyalty is in fact low, with one out of every three subscribers likely to churn within the next 12 months. The situation is even more pronounced in a mature market, such as the UAE, where only about a quarter of the mobile sample was loyal to their operator with half of all customers likely to churn within the next 12 months. In fact, 11 per cent of all mobile phone users have already changed their mobile operator. Out of those who churned, the main reason cited for dissatisfaction was voice quality.
In 'in-transition' markets such as Saudi Arabia, the proportion of loyal customers is 41 per cent vis-à-vis that of a mature market such as the UAE which stands at 27 per cent – a clear indication that as a market matures, customer loyalty drops alarmingly. Probing further reveals that end user expectations in a mature market have changed dramatically.
One reason is the growing usage of mobile broadband, which has increased focus on factors such as good network quality, including coverage, voice, messaging and Internet quality. No wonder then that globally, the samples that showed the highest probability to switch included contract users, data card users and smartphone users. Other factors impacting churn included cost and billing particularly contract structure, the service and device portfolio, and customer care.
Source: NSN