DarkMatter, a cyber security firm with global aspirations, announces the appointment of the former head of Security and Privacy Engineering at Google Nest and VP of Security R&D for Samsung Electronics, Michael Pak, to its senior management team. The executive is a 20-year security technology expert and assumes the position of senior VP– Secure Communications Engineering at DarkMatter.
Pak holds 18 security patents and has international security experience spanning the US, South Korea, Japan and other regions of the world. His most recent position was as Head of Security and Privacy Engineering, Google Nest Labs in the US. He has also held leadership positions with leading technology innovators including Samsung Mobile Communications in South Korea; Wind River (an Intel company) in the US; and was co-founder of McAfee Mobile Security Group, also based in the US.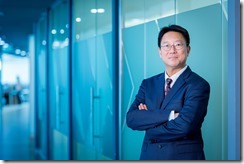 DarkMatter, which is led by UAE businessman and founder of Axiom Telecom, Faisal Al Bannai is staffed by tier one international cyber experts who develop, manage and deploy the most innovative technologies.
Already a strategic partner of the UAE government, DarkMatter is leveraging this experience in the wider market as it looks to serve regional and international clients.