When Hans Vestberg, president and CEO of Ericsson spoke at Mobile World Congress in March, he reiterated the telecom technology company's desire to become a one-stop-shop for its customers. Not since the 3G licensing-inspired market crash at the turn of the millennium has a telecom technology provider expressed such a bold ambition, and Ericsson is putting the strategies in place to achieve it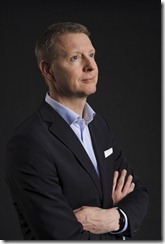 Hans Vestberg believes service providers shall remain cautious in 2012, though there remain strong growth indicators in the telco market
The market trends that Ericsson is adapting its operations to include:
· Mass market adoption of smartphones
· Life-style changes and ubiquitous connectivity
· Innovation and collaboration
· Growth and efficiency driving transformation
· Focus on high-performance mobile broadband networks
Ericsson is mindful of the heightening demands for speed, quality, stability and security from end-users when accessing networks, and continues to work closely with service providers in order optimise such.
Ericsson signed 70 contracts for managed services in 2011, representing 900 million subscribers, and showcasing the company's active participation in service delivery, as distinct to the mere supply of infrastructure.
"We want to be a one-stop-shop for our customers, providing them with end-to-end solutions," Vestberg commented. "For instance we are aspiring to become number one in OSS/BSS having already increased our leadership in the telecom infrastructure market from 32 per cent to 38 per cent in 2011," he added.
The incredible and sustained growth in mobile broadband demand is an on-going source of optimism for the telco sector, but beyond that, increases in broadband penetration are also having a profound impact on national economies. It is estimated that a doubling of broadband speed increases GDP growth by 0.3 per cent as higher speeds allow for more information and transactions to be completed.
There will be an estimated five billion mobile broadband subscribers by 2016, with the amount of traffic and smartphones increasing exponentially in that forecast period. And while Ericsson has gone on to divest from Sony Ericsson, a mobile handset with a clear emphasis of the smartphone segment, Vestberg said Ericsson's focus was on intellectual property rights and patents. The company added 3,000 additional patents in 2011, raising the overall number held to 30,000.
Ericsson is also communicating the benefits of the network-enabled cloud, which builds on and combines today's telecom assets and delivers improved quality of experience, new business opportunities, faster time-to-market, and reduced cost for operators.
"The Mobile Cloud Accelerator is a service that is being developed in partnership with Akamai, and makes an improvement in bringing down data from the cloud, caching it and delivering the data," Vestberg said.
Ericsson is also showing interest in areas including m-commerce and the optimisation of micronetworks. The technology provider recently announced a partnership with Western Union designed to accelerate the interconnection between the m-commerce ecosystem and the existing financial world.
The first step of this agreement will result in seamless platform integration between the Western Union Mobile Money Transfer network and the Ericsson suite of M-Commerce solutions, including Ericsson Converged Wallet, Ericsson Wallet Platform, and Ericsson M-Commerce Interconnect. This will enable mobile network operators to easily include Western Union Mobile Money Transfers in the service suite of their mobile financial service offers.
"Through this agreement with Western Union, we are helping mobile network operators and financial institutions get closer to their customers with differentiated wallet services that connect and add value to their consumers," Vestberg said.
Earlier this year MTN Group became the first operator to deploy the Ericsson Converged Wallet platform, a complementary service to the integrated prepaid charging system and mobile financial services solution for MTN consumers in Africa and the Middle East.
In the area of micronetworks, Ericsson has extended its RBS6000 family of products to incorporate peakocells, and in April announced the completion of the acquisition of BelAir Networks, a North American carrier-grade Wi-Fi company. The acquisition gives Ericsson a strong carrier-grade Wi-Fi portfolio, which will become increasingly significant as LTE broadband access is off-loaded to Wi-Fi in microcells.